Tim Tebow is a two-time national champion, first-round NFL draft pick, and Heisman trophy winner. He plays professional baseball with the New York Mets and is a college football analyst for the SEC Network. He's an author and a philanthropist. Above all, he's the founder of the Tim Tebow Foundation who lives by the mantra "True success is not measured in physical possessions but in the number of lives you change." His foundation is changing lives, and it is doing so right here in Paducah with Night To Shine.
Night To Shine is an unforgettable prom night experience, centered on God's love, for people with special needs ages 14 and older. On February 8, 2019, Heartland Church was the site of Night To Shine sponsored by the Tim Tebow Foundation. This year marked the fifth year for the foundation's annual event. On that one night, 655 churches from around the world came together to host Night To Shine for approximately 100,000 honored guests through the support of 200,000 volunteers.
A Night To Shine in Paducah
Heartland Connect is a special needs ministry at Heartland Church with a mission to break down barriers that keep individuals with disabilities and their families from being able to participate in the community of the church. In 2017 the ministry was nominated as a host site for Night To Shine. Their subsequent application was accepted. This is the second year the prom night experience has been hosted at the church. The church has the capacity to host 150 honored guests. Just two years in, the event was at maximum capacity this year.
Every guest of Night To Shine entered the complimentary event on a red carpet complete with a warm welcome from a friendly crowd and paparazzi. Once inside, guests received the royal treatment, including hair and makeup stations, shoe shining areas, corsages and boutonnieres, a catered dinner, karaoke, prom favors, a dance floor… all leading up to the moment when each guest was crowned king or queen of the prom.
"Joy – that's the word I associate with this special night." 
We are excited to be a part of this worldwide movement that God is using as a catalyst to change how our culture embraces people with special needs and stands up for those who are differently-abled," said Bryan Phelps, Heartland Church's Pastor to Children and Families. "Joy – that's the word that I associate to this special night. Our hope when applying to host Night To Shine was that it would bring joy, laughter, and memories to those who attend. Above all, we want all of our honored guests to know they are loved by their community and loved by God."
And joy the event has brought!  
19-year old Adam Stanley has attended Night To Shine both years the event has been hosted in Paducah. "Adam loves Night To Shine," said Lana Dycus, Adam's mother. "Adam loves getting all dressed up and being celebrated for the unique and special person that he is. We live in a world that we often would like to change for children like Adam. On this night, the event conforms to meet their needs.  It's truly beautiful seeing all their smiles, hearing their laughter, and just as the event's name describes, seeing them "shine."
Sally Fralix as seen the impact of Night To Shine from multiple perspectives. As the coordinator of Heartland's Connect Ministry, she regularly sees the love, compassion and commitment the church has shown to the special needs community and the impact it has had on the hearts and lives of special needs families.  Sally leads a weekly Bible study at Easter Seals West Kentucky's Adult Services program where Night To Shine is often a topic of discussions among participants: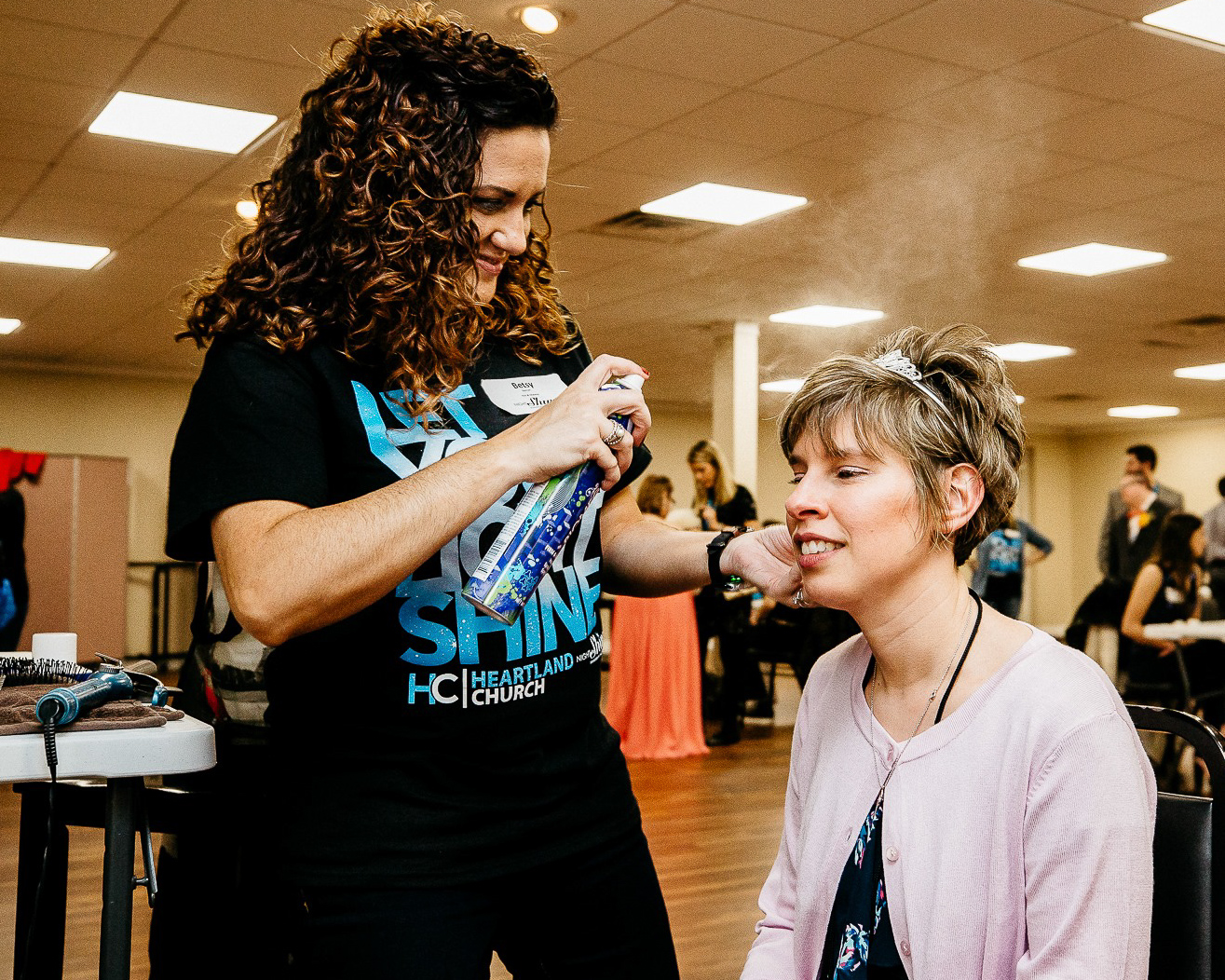 "In the weeks leading up to the event, the girls are talking about hair, makeup, and dresses, of course. The day they try on and choose their dress is the highlight for me. The guys are just as excited to rent a tux and pick out the color of their vests and ties, though most will not admit it.   Because many of our older attendees were not able or allowed to participate in their high school prom, Night To Shine is an opportunity for them to experience the joy of dancing the night away and being the honored guests.  Last year our oldest attendee was 90 years old and was the life of the party. Thankfully, a lot has changed in the last few years and inclusion for school proms have become more of the norm. For those individuals, this is a night set aside just for them, and they are the kings and queens of the night."
"This past year we heard several stories from volunteers who had run into their buddies within the community following the event," adds Bryan. "I've been told stories of our honored guests who were still wearing their crown or tiara weeks following the event. Our honored guests are incredible individuals. This event is just one small way for us to show them that.